Compact Microwave Digestion
The ETHOS™ LEAN collects Milestone experience and embraces all these values into a compact and economical solutions for sample preparation, matching the requirements of laboratories that approach microwave digestion without the needs of high-volume labs.
YOUR TRUSTED PARTNER IN SAMPLE PREPARATION
FOR METALS ANALYSIS
The ETHOS™ LEAN was specifically designed to provide high-quality closed-vessel acid digestion for labs with limited throughput needs. Whether you're setting up a new lab, or improving your elemental analysis, a compact and economical solution for sample preparation is crucial. ETHOS LEAN matches the requirements of laboratories that approach microwave digestion without the needs of high-volume labs.
PLUG & PLAY
 Easy to use and to implement are pivotal ingredients that define the ETHOS LEAN. From the rotor's ease-of-use to the smart software, the ETHOS LEAN is the plug and play solution for your lab to quickly get up-and-running. The comprehensive Milestone Validation Package further boost the system implementation, enabling to match GMP guidelines' requirements. The ETHOS LEAN user centric design makes it an essential and reliable tool for elemental analysis, even right after its installation.
SMART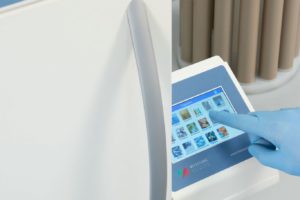 The easyTEMP technology controls the digestion temperature in all vessels, while the easyCONTROL software provides a large methods library to handle your samples, eliminating the tedious method development. The software, fully compliant with CFR 21 part 11, includes the most advanced features to simplify the control of the digestion process.
COMPACT & ECONOMICAL
The ETHOS LEAN takes almost half of the conventional microwave footprint. The reliability and quality of the components and materials used, along with unique Milestone know-how in microwave sample preparation makes the ETHOS LEAN a great investment even for whom approached microwave digestion for the first time but chases the best-in-class technology.
EXPERTISE AVAILABLE 24/7
Milestone Connect provides instant answers to your requirements through a wide selection of application referrals (scientifi c papers, methods, recovery studies), maintenance tips, training and troubleshooting videos, and list of spare parts. It is like having a Milestone Specialist right at your side 24/7.
MAXI-14 Rotor
The performance required to meet your needs
The MAXI-14 rotor features 14 with high-purity PTFE-TFM vessels and robust shield to achieve high temperature and pressure. The unique vessels constructions simplify the rotor handling with fast and trouble-free vessels assembly. Safety is ensured in every vessel through the vent-and-reseal technology, invented and patented by Milestone, that acts as individual pressure release mechanism. The rotor operates in perfect synergy with easyTEMP sensor and easyCONTROL software to ensure complete and safe digestions of a wide array of matrices, such as organic and environmental samples in compliance with US EPA methods.
 Temperature control with easyTEMP
The easyTEMP contactless sensor directly controls the temperature of all samples and solutions, providing accurate temperature feedback to ensure complete digestion in all vessels with superior safety. This technology combines the fast and accurate reading of an in-situ temperature sensor with the flexibility of an infrared sensor.
In combination with our 'vent-and-reseal' vessel technology, easyTEMP direct contactless sensor ensures complete and safe digestions without any loss of volatile compounds.