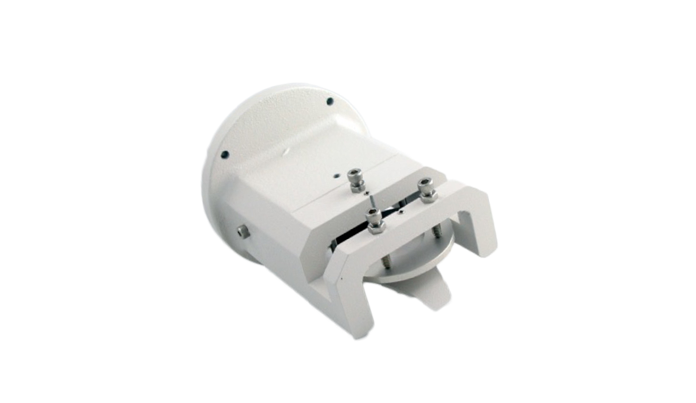 Standard Stage
The standard stage takes the standard 2 inch diameter sample holders, which are spring loaded against height setting pegs precisely adjusted to the goniometer axis
---
Spinning Stage
A variation on the standard stage; it holds the sample holders up against small ball-bearing rollers which are precisely adjusted to height. Spinning reduces preferred orientation effects, and is stepper motor driven.
---
Long Sample Stage
This stage can also be used for bulk sample applications and can take ingots up to 52 mm diameter and 100 mm long.
---
Capillary Spinning Stage
Used with parallel beam detector and optic. Allows data collection in Debye-Scherrer geometry in sealed capillaries or to minimise preferred orientation.
---
Large Sample Stage
This stage is for bulk samples and can take large samples up to 150 mm diameter x 20 mm thick. Translation and rotation allows access to the whole surface.
---
Auto Loader
The 10 sample Autoloader includes the option to spin in the analysis position. Random access to any position makes it convenient for permanent mounting and/or use for single samples.
---
PAAR HTK-16 High Temperature Stage
Allows setting of temperatures up to 1600°C in Vacuum with precise and rapid temperature setting. Software allows setting up of an automated temperature ramping and repeat scan sequence.
PAAR TTK-450 Low Temperature Stage
Also available is the PAAR TTK-450 Low Temperature stage, with air jet cooling, which allows temperature setting from -10°C to +450°C without cryogenics.
---
Auto Slits
Stepping motor driven auto slits mount in the divergence and matching scatter slit positions to give constant irradiated area on the sample. They open and close with Theta angle.
---
Eulerian Cradle
Essential for Pole Figure data collection and preferable for Residual Stress work. It has a slim cross section, so has minimum obscuration of the detector and maximum available angle.